Howdy Howdy Howdy! Chapter 2 focuses on choosing a product for the website and initiating a survey to have an idea about the statistics of online purchasing.
Chapter 2 
Thilina: Well, I was thinking of…… Wait a minute, let's take this discussion to the conference room at about 5. Ask Manoth to join us.
Tony: Alright. (I'm hungry as usual, Imma go have lunch)
Thilina: So Manoth, I was just telling Tony about kick starting wonder.lk.
Manoth: Yeah it's time wonder.lk is brought to life. Machan, do you remember the website we built for an E-commerce business venture, named Ceylon PC Parts. We wanted to sell PC parts online.
Thilina: Haha, how could I not? Honestly, that was a total failure. We spent an entire month to build the website and it did not survive to make one sale because we got so involved in other work that we forgot to marketing and strategize for Ceylon PC Parts. It is all our fault. However, it was a solid experience. I was very much into computer hardware items back then.
Manoth: Good times. Okay so what are you planning on selling on wonder.lk?
Thilina: Well, I have a contacts in the apparel industry, one for T-shirts and another for sarees. I am open to other ideas as well. I don't mind working on PC parts again. *laughs*
Tony: (T-shirts sound cool, I need a few t-shirts.)  The T-shirts have to be very unique in order to attract people. The competition in apparel industry in Sri Lanka is very tight. I think customizing it according to the current trend, maybe to suit the fan base of some famous movie, or funny quotes would help us have a better chance at acing the competition.
Thilina: Yeah, that's a good idea. However, I don't think we will be able to customize the T-shirts initially. I want to start the business with minimum-costs. I personally think the sarees would do better than the T-shirts since they are handmade unique silk sarees which has no pattern repeating. I will give you more information on that soon.
Tony: Alright. (Dammit, sarees… C'mon guys T-shirts are dope)
Thilina: Guys I think we need more opinions apart from the three of us alone. Do you think people will really want to purchase items online? Especially clothes? I think we should conduct a survey on people offline and online. Let's go face the crowd and ask them questions. We are not gonna lose anything by doing so. It will surely fun.
Tony: (Oh boy, we have challenges as usual. Who likes them? Ugh!! And an offline survey, sounds fun though.)
Manoth: Yeah, we should. I think it's best if we complete this survey first.
Thilina: Alright, let's do that first. Tony can you prepare a form for the online survey and for the offline one. I don't think it is necessary to ask them for personal information such as their name, however the age is quite important for us to know which age category is most active on purchasing online.
Tony: (A cup of coffee will be great right about now) Yeah I'll get it done.
Folks, Meet Manoth,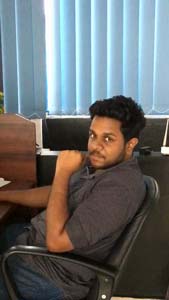 I met Manoth a few weeks ago when I joined DoMedia. I guess he is the funniest on the DoMedia Team. I asked him to give a brief description of himself and this is what he cooked for half an hour.
"Hello Folks!! I am the fabulous human mentioned above, Manoth Kodikara. I am a professional dreamer who drives luxurious vehicles in my dreams. Because achieving is next to impossible but dreaming is possible.
I joined as a Quality assurance intern and later on Thilina found out my ability in talking to people and needed me to take care of the sales and marketing for DoMedia. That's when I became the Manager (Corporate Sales) at DoMedia.
I now have the opportunity to discover the lacking areas of digital marketing for startup to top level businesses. Providing solutions and helping them out became my passion out of nowhere.
Stay tuned for more.
Read our previous Chapter here 
Read our next Chapter here
Feel free to comment below 🙃
Till next time,
~Tony 🤟🏾