How it all began?
Sri Lanka has 5-6 million active Facebook users which is equal to 1 in 4 people. You could also be a part of the 1 in 4 active users, but have you ever stopped to wonder how this life influencing tech giant began. Let me ask you a question before we begin.
Facebook and psychology. Any similarities?
Many would say NO, but those who say YES would know that Facebook co-founder and CEO Mark Zuckerberg was a second-year psychology student at the world renowned Harvard University where he built the ground-breaking social media network FACEBOOK.(Funny isn't it).
Being a programming prodigy Mark Zuckerberg created many social-networking websites for students such as Coursematch (which helped students view people who were taking their degree) and Facemash (a Hot-or-Not type site, which allowed users to rate people's attractiveness). Mark saw a great potential in social media networking and in the next semester after creating Facemash he began coding to create a network where Harvard undergraduates could interact with each other.
The growth of a multi-billion dollar company …
The Facebook (facebook's initial name) was released on the 4th of February 2004, at Mark's Harvard dorm room (The same dorm where Wallace Shawn the voice of Rex in "Toy Story," lived during his Harvard years) along with his friends, Eduardo Saverin, Andrew McCollum, Dustin Moskovitz and Chris Hughes. Created with the intention for students at Harvard University, it now has 2.23 billion active users as of January 2018 (Pretty crazy eh!).
24 hours after launching Facebook, 1200 Harvard students had signed up and in a little over a month, over half of the University undergraduate population had an account. Soon the system expanded to Ivy League colleges (colleges in the United States which have more priority for sports) and ultimately to all the US universities.
6 days after Facebook was released Harvard seniors, the Winklewoss twins, Chris Winklewoss and Tyler Winklewoss along with their friend Divya Narendra stated that Mark Zuckerberg has copied their ideas and thus created Facebook. Zuckerberg worked for the trio as a computer programmer at Harvard before Facebook was born. In September 2004 they filed a legal case which went on till March 2007 when it was ruled out due to a technicality.
In 2005 the address Facebook.com was brought for $200,000. It spread to US High schools and universities in UK during the same year. The following year the system was available for everyone who had a registered e-mail address and for the age of 13 and above. In 2007 Facebook had over 100,000 business pages. By October 24th 2007, Microsoft purchased 1.3% share of Facebook which included the right to put up advertisements on the site.
Facebook shareholders now: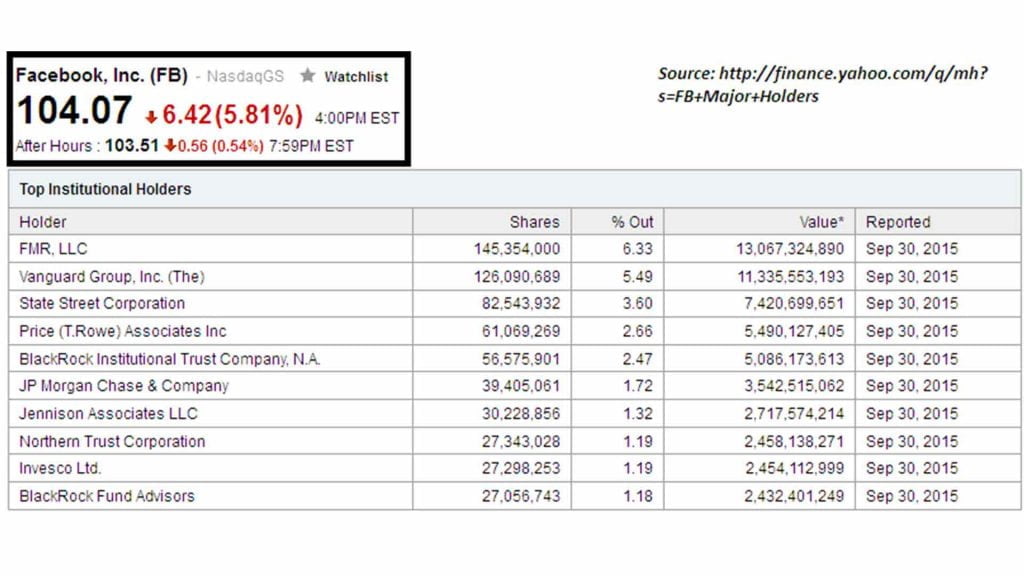 The internet has the power to change lives. If a mere undergraduate was able to make it from the dorm room company to a multi-billion dollar venture, why not you? The internet should never be thought as something which just helps you to check your emails etc, but as a tool to expand your business to unimaginable horizons.
Facebook Today
According to statistics, if Facebook was a country it would be the biggest country in the world with 2.23 billion people and China trailing behind with 1.41 billion people. Facebook is so huge that it has turned the tables of politics and causing much scandal. (https://www.vox.com/policy-and-politics/2018/3/23/17151916/facebook-cambridge-analytica-trump-diagram)
It went public in May 2012 for $38 a share. The company was valued at $108 million at that point and is now valued at a staggering $500 billion.
Since its global success, Facebook went on to acquire many fresh startups. They acquired the photo sharing giant Instagram for $1 billion in April 2012, the mobile messaging app Whatsapp in February 2014 for $19 billion and the VR headset maker Oculus for $2 billion in March 2014.
10 Major Facebook Acquisitions.
| | | |
| --- | --- | --- |
| Company Acquired | Year of Acquisition | Value (USD) |
|  Instagram  | 2012 | 1 Billion |
|  Whatsapp | 2014 | 19 Billion |
|  Oculus VR | 2014 | 2 Billion |
| Atlas Solutions | 2013 | less than 100 Million |
| Onavo | 2013 | unrevealed |
| PrivateCore | 2014 | unrevealed |
| Face.com | 2012 | 60 Million |
| FriendFeed | 2009 | 47.5 Million |
| WaveGroup Sound | 2014 | unrevealed |
| Jibbigo | 2013 | unrevealed |
Sri Lankan Facebook stats are quite interesting. 0.269% of Facebook users are from Sri Lanka.
Facebook & Marketing.
This tech giant is literally the one-stop shop to get your message across to many individuals. With social media playing an important role in one's life it also can play a vital role in your business. Social media marketing on Facebook can make a tremendous change to your business goals and statistics, bringing in much more than you expected.
From our Blog: http://www.domedia.lk/blog/facebook-marketing-sri-lanka-try-right-now/
Cheers,
Tony Jesuthasan.